Alachua Bar Picks
Alachua is a wonderful, historic community located in Alachua County. It features a relatively moderate sized population of about 9,060. Established on a railroad line, Alachua has a great tradition of having a great amount of respect for blue collar workers, and as a result, everyone who heads there seems to be immediately charmed by how welcoming everyone who heads there is. They are well known for their great vibe and the wonderful people who live there. Here are some of our favorite places to grab a bite to eat or to sit back and grab a drink int he Alachua area.
Main Street Pie
(386)462-0661
14933 Main St, Alachua, FL 32615
Located in the heart of Downtown Alachua, Main Street Pie is a great, locally owned and operated pizza place that is a great place to go and grab delicious pizzas. They take great pride in the fresh ingredients that they use and the extremely generous portions that they serve their food in. You will always love your experience at Main Street Pie.
Mi Apa Latin Cafe
(386)418-0838
15634 NW Hwy 441, Ste F, Alachua, FL 32615
A fantastic place in the Alachua area to go and grab some fresh and authentic Cuban food, Mi Apa Latin Cafe is a beloved gem that you simply do not want to pass up on. We strongly recommend that you grab their Roasted Chicken with Grilled Onions or their sweet, carmelized Plantains!
Tony & Al's Deli
(386)693-9090
14960 Main St, Alachua, FL 32615
Tony & Al's Deli is an elegant, classy affair that you will always love heading to after even just one meal there. They particularly specialize in delicious, authentic Italian meals, and we strongly recommend the Salmon Marsala or the Gnocchi. A visit to Tony & Al's Deli is a great choice for any occasion.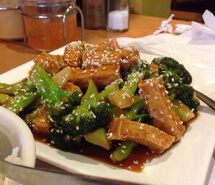 Rose Garden
(386)462-5054
15530 NW US Hwy 441, Ste 10050, Alachua, FL 32615
When you're looking for some truly excellent Chinese food in the Alachua area then Rose Garden is undoubtedly the place for you to go. They have all of your favorite, traditional Chinese dishes such as Chinese BBQ Ribs, General Tso's Chicken, and much more! Their fresh ingredients will keep you coming back again and again.
Brown's Country Buffet
(386)462-3000
14423 NW US Hwy 441, Alachua, FL 32616
Brown's Country Buffet is a fantastic family dining establishment where you and your family can go and enjoy a seriously delicious, hearty meal. They have been providing great, affordable food for over fifty years, and have been doing so with great big smiles on their faces! This buffet style establishment is always a great option for dinner, lunch, or just a nice meal!
Alachua Sports Pub
(386)462-5333
14003 NW 150th Ave, Alachua, FL 32615
Alachua Sports Pub is the place to go when you are looking to enjoy a locally owned, friendly bar where many of the locals go and simply unwind. They feature a great variety of drinks such as cold beers and great hand crafted cocktails, as well as some excellent hot food selections for you to choose from!