Archer Bar Picks
Archer is a relatively small, but charming community with a population of slightly over 1,000. Known as the hometown of the legendary rock and roll musician Bo Diddley, Archer takes great pride in their history and their rich culture. With roots deeply seeded in music and art, Archer is an exciting city to hang out in and you'll surely enjoy a rich culture and tradition. So if you're in town and looking for refreshing drinks and delicious food, check out the places we've listed below?
Los Avina
(352)495-1314
201 State Rd 24, Archer, FL 32618
Los Avina is a quaint, charming little Mexican restaurant that has a wide ranging menu of authentic, Mexican dishes. The meals are always portioned generously, and the prices are extremely reasonable. We strongly recommend their delicious, sizzling chicken fajitas or their plump, incredible burritos!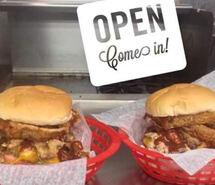 The Mustang Grill and Bar
(352)495-3100
13232 SW SR45, Archer, FL 32618
The Mustang Grill and Bar is a beloved local gem where you can go and enjoy a seriously good meal every single time. They take great pride in their huge selection of drinks, including fantastic beers and hand crafted cocktails. Their selections of bar food is great as well, with Classic Mustang Burgers, and even Veggie Burgers for those Vegetarians out there!
Blue Highway
(352)505-6833
13005 SW 1 Rd, Newberry, FL 32669
A perfect place to go and grab pizza in the Archer area, Blue Highway is a seriously beloved restaurant. Whether you are looking to dine inside or al fresco, you will always be sure to love this fun, eclectic, family friendly restaurant. They proudly use all fresh ingredients whenever possible and they use expert techniques to make sure that each and every meal is absolutely delicious.
Sabore
(352)332-2727
13005 SW 1st Rd, Ste 129, Newberry, FL 32669
Sabore is a fantastic place to go and grab a great variety of dishes such as dishes from Europe, Asia, South America, and beyond. They make sure that all of their ingredients are fresh and absolutely spectacular. This is a wonderful place to go for all sorts of occasions, but especially to take that special someone out for a date.
Newberry's Blackberry BBQ
(352)472-7260
25405 W Newberry Rd, Newberry, FL 32669
If you're in the mood for some delicious barbecue in the Archer area then you simply need to head over to Newberry's Blackberry BBQ. The food here is incredible, and the chefs use classic techniques and delicious ingredients that result in great BBQ! The service is friendly and the prices are right, so don't miss out!
Red Wok Buffet
(352)472-3288
24204 W Newberry Rd, Ste F, Newberry, FL 32669
You might not think much about Red Wok Buffet from the outside, but the minute you step into their establishment you will be immediately charmed. The food at Red Wok is known for being fresh and made with ingredients of the highest possible quality. You can enjoy all those classic dishes here, like Honey Chicken, Crab Rangoons, Sushi, and so on and so forth! You'll be satisfied with every visit to Red Wok Buffet.