Campville Bar Picks
Campville is a charming, and very quiet designated place in the Alachua County area. They are not a frequently visited community because of allegations that it is a ghost town, and whether those allegations are true or not are not for us to discuss here, but there is little to no doubt that the people who live here are quite friendly and accommodating. There is a lot to do when you head to Campville, and when you head there, you will surely love the great restaurants and bars that are in the area. Here are some of our favorites.
Southern Charm Kitchen
(352)505-5553
1714 SE Hawthorne Rd, Gainesville, FL 32641
When you're looking to indulge in some great, old fashioned southern charm meals then Southern Charm Kitchen is definitely the place to go. This is a favorite spot in the area for many vegetarians as they have some incredible vegetarian options such as tofu scramble, BBQ tempeh, and much more!
Daily Green
(352)225-8288
426 SE 2nd St, Gainesville, FL 32601
Speaking of places in the area that are very popular amongst vegetarians, Daily Green is a healthy spot where you can grab delicious tempeh tacos, crisp salads, indulge in a juice and smoothie bar, and beyond! We strongly recommend that you head there and enjoy one of their four flavors of Kombucha on draft!
Dragonfly Gainesville
(352)371-3359
201 SE 2nd Ave, Ste 104, Gainesville, FL 32601
When you want some amazing, fresh sushi in the Campville area then check out the amazing Dragonfly Gainesville on Southeast 2nd Avenue. They make flavorful and artful dishes that will simply blow you away every time. The service is top notch, the staff here always works hard to make sure that you're enjoying your experience when you head there.
Sababa
(352)792-6043
101 SE 2nd Pl, Ste 107, Gainesville, FL 32601
Sababa is a fantastic Mediterranean restaurant with authentic, freshly made Mediterranean cuisine. They have all of your favorite Mediterranean dishes such as kabob, falafel, many different styles of salads, and so on and so forth. They have all been authentically spiced and flavored, and the charm of the atmosphere is absolutely palpable.
BJ's Seafood
(352)519-5585
922 SE Williston Rd, Gainesville, FL 32601
For the best seafood around then you need to head over to BJ's Seafood on Williston Road. At BJ's, all of their seafood has been locally sourced from local fishermen, and it is fresh; they do not freeze their seafood ever. You will always love the meals that you get at BJ's Seafood without a doubt.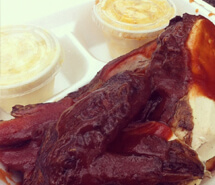 Terrell's Bar-B Que
(352)367-1400
1916 Waldo Rd, Gainesville, FL 32601
If you're looking for some great barbecue in the Campville area then you simply must head over to Terrell's Bar B Que on Waldo Road. This walk up BBQ Trailer has been a staple in the area for years The meat is all cooked to absolute perfection, and they have been loaded with amazing, hand crafted sauce! Terrell's Bar B Que is definitely the place to go for barbecue in the Campville area.