Cedar Key Bar Picks
Once you leave the Florida mainland, you can make your way to the beautiful island of Cedar Key. This coastal city is a quiet community with an abundance of natural beauty. The surplus of seafood makes this the perfect place to get a great meal, and the nightlife scene is bustling. You'll love these suggestions for the best bars and nightclubs in Cedar Key.
Black Dog Bar & Tables
(706) 248-2110
360 Dock St, Cedar Key, FL 32625
For a phenomenal beer selection, a relaxing atmosphere complete with hammocks and a varied humidor, you're sure to enjoy all that Black Dog Bar & Tables has to offer. They have some of the best brews in the area, all for a that will surely have you coming back for more.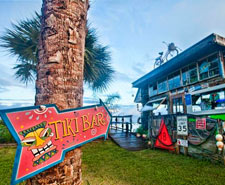 Low-Key Hideaway
(352) 543-0700
12050 FL-24, Cedar Key, FL 32625
Low Key Hideaway has an amazing tiki bar atmosphere that is sure to have you coming back time and time again. This bar offers a great view of the coastal waters, as well as some of the best drink specials in the area.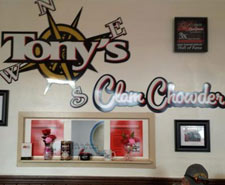 Tony's Seafood
(352) 543-0022
597 2nd St, Cedar Key, FL 32625
Tony's Seafood Restaurant is a great place to get your fill of food and drink in Cedar Key without breaking the bank over a night of fun. You'll enjoy cold drinks with a heavy pour without regretting it in the morning. Stop by!
Ken's Keyside Diner
(352) 543-6800
490 Dock St, Cedar Key, FL 32625
Come visit Ken's Cedar Keyside Diner for food and service that will have you impressed, to say the least. This amazing diner has fried foods, sandwiches, appetizers, and some of the best deals in the area when it comes to affordable drink specials throughout the week.
Big Deck Raw Bar
(352) 543-9992
331 Dock St, Cedar Key, FL 32625
Big Deck Raw Bar is serving up the freshest seafood in Cedar Key. Not only are they known for their clams, but they also have a great drink menu. The waitresses are all friendly here, and the prices are reasonable.
Coconuts
(352) 680-0376
590a Dock St, Cedar Key, FL 32625
Coconuts is a sports bar with a lot to offer the Cedar Key area. If you're looking for a laid back bar to throw back some drinks with friends and watch the game, you can't go wrong with a visit to this popular establishment.