Hague Bar Picks
A relatively small, unincorporated community in Alachua County, Hague, Florida is a fantastic place to go when you are int he area. The people who live in Hague have a great amount of pride for the community that they live in and the history that comes with it. It was named after The Hague of the Netherlands, a country of which that many of the original residents draw their country of origin. When you are really hungry or want to grab a drink in Hague then you will really appreciate this list of bars and restaurants in the area that you will not want to pass up on.
Country Foodly
(352)377-7863
5240 NW 34th St, Ste D, Gainesville, FL 32605
A wonderful locally owned and operated restaurant that brings a unique Korean spin on amazing, classic American breakfast favorites. We strongly recommend that you head over there and grab their Bulgogi Omelette, their unique spin on the biscuits and gravy, or any of your favorite breakfast classics. They also have great lunch options for you to choose from.
Dolce Vita Bakery Cafe
(352)505-6688
4908 NW 34th Blvd, Ste 2, Gainesville, FL 32605
Dolce Vita Bakery Cafe is the best place in the Hague area for you to go and pick up some delicious, fresh, and authentic Italian desserts. They feature incredible Italian cookies, lobster tails, Pignoli cookies, canolis, rainbow cookies, and beyond. They also feature incredible meals using Boar's head deli meats and cheeses, soups and salads that have been made completely in house, amazing breakfast sandwiches and beyond.
Piesanos
(352)371-7437
5200 NW 43 St, Gainesville, FL 32606
A charming little restaurant that features a rather amply sized bar area, Piesanos is always a great option when you're looking to enjoy some delicious pizza or other casual Italian meals. The atmosphere is always extremely friendly and welcoming. You will be blown away by the friendly service there, and the extremely competent bar tenders. They use all fresh ingredients and this is a great place to go and grab a slice!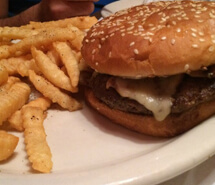 Sandy's Place
(352)367-9993
5001 NW 34th St, Gainesville, FL 32605
Sandy's Place is the kind of restaurant that finds itself with a great amount of loyalty from the locals. They treat each and every person who steps through their doors like they are a regular, making a great effort to learn your first name and refer to you as such for the whole time you head in there. We love the meals that they make there, from the gyros to the wings to the spaghetti to the burgers, everything is just perfection!
El Indio Real Mexican Food
(352)336-4441
5011 NW 34th St, Gainesville, FL 32605
When you're looking for some absolutely delicious, fresh, and authentic Mexican food then you simply need to head over to El Indio Real Mexican Food. They make sure that every ingredient has been prepared every single day, and they get your food to you fast! When you head there you simply must try out their refreshing and delicious Horchata!
Taste Sushi Bar & Asian Cuisine
(352)372-8686
4860 NW 39th Ave, Gainesville, FL 32606
When you're looking for a great taste of authentic Asian food then Taste Sushi Bar & Asian Cuisine is undoubtedly the most trustworthy and highly regarded place around. They have incredible, authentic sushi as well as a great variety of Asian fare such as pad thai, pho, and Chinese dishes. Everything is fantastic, and the portions are more than generous. You can be guaranteed that you will have a great experience when you head to Taste Sushi Bar & Asian Cuisine.