We got the finest car service in Gainesville, Florida!
Did you recently arrive in Gainesville, Florida, and need elegant, clean, and reliable transportation for you and your family? You are lucky because you are on the website of the most professional transportation company in town. Our time in the rental business has turned us into car and limousine service specialists. We are the ones you want to trust when it comes to any rental service in the Gainesville area. A car service is particularly beneficial for those who are only passing through or visiting the city since you can rent one from your arrival in the city to function as airport transportation. Our priority is your time, so be sure that your schedule will be followed to the letter regarding the days or hours you need the town car. If you want a limousine service professional chauffeur to drive your rented vehicle, we can provide one of our well-trained team. Beyond the premium limo service you will receive from us, we also excel because of the quality of our vehicles. Our car service fleet is mainly composed of luxury sedans and classy SUVs. We have different models from which you can choose the one that better matches your plans. We even provide limousine service with another catalog of equally striking options. This will be a better option if you specifically attend a special celebration like a wedding or a prom night. Based on a few pieces of information, our customer service team will give you a free quote with no obligation. Be one option or the other; you will have guaranteed a first-rate transportation service. Call us or email us, and we will happily answer any questions you may have.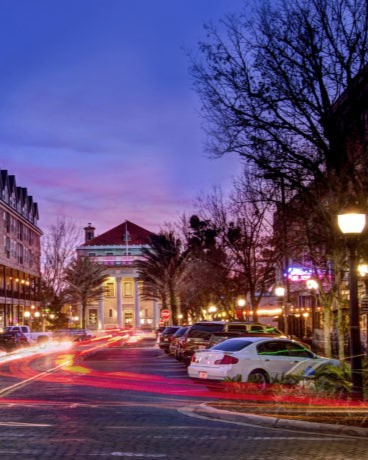 Gainesville, one of the most beautiful cities in North and Central Florida!
Despite not being one of the biggest cities in Florida, Gainesville is still relevant. The main reason for this is that it is the house of the renowned University of Florida. That's why many of the things happening in town are in some way related to the university, and also, many of the visitors come here because of that. But Gainesville, Florida, is also famous because of the Florida Museum of Natural History and the natural landscapes that surround the city. The most popular locations here that you must visit are, without a doubt, the natural parks and reserves that are in and out of the town. Whether you are here due to academic or corporate events or for vacations, Gainesville will welcome you. And in both cases, if you do not live here in Gainesville, renting a car service or a limo service is the best option for your comfort. To seize to the fullest your stay in here, we recommend you get an airport car service so from the beginning you will have a way to transport yourself. As a matter of fact, it is so much better when you have the freedom to go anywhere without limitations. And what's better than having your own personal vehicle so you can visit more and in less time? But we leave the best of it all for the last: our competitive prices. For different reasons, we can't post a range of prices of our rental vehicles but give us a call, and we will provide you with a free quote without any compromise.
Choose us for an outstanding transportation service!
What characterizes our transportation company is the compromise of providing the finest service regardless of the circumstance. We will aling with whatever itinerary, plans, or group outings. From our perspective, customer satisfaction is the only priority. And believe us when we say that we put all our efforts so that you have a pleasant experience in one of our car or limo service vehicles. We are so meticulous when it comes to our job that the work of providing a leading bus, limousine, and car service began long before you made your reservation. More precisely, we ensure you get the best transportation service from the vehicles' very maintenance. All of them have passed all mechanical controls, so you have a certainty that you will have a safe ride. They are also cleaned up from button to top, so the interiors are fresh when you get in. And on top of it all, regardless of the vehicle you choose, you will always get a limousine service treatment. So if you are ready to have a great time while you are in Gainesville, give us a call for a town car or limo rental. Our customer service team is available 24 7 to help you during the process.