Meet the most varied charter bus fleet in Gainesville, FL!
If you have an upcoming group trip to or from Gainesville, FL, and need a professional transportation service to manage everything, your search has brought you to the appropriate website. We are the finest Gainesville charter bus company, with several years of providing the most elegant charter buses in town. With us, you will have such a safe and comfortable journey that you will be glad you choose us. We take our job very seriously, so all of our coach buses are up to date regarding their mechanic's controls and the cleaning of their interiors. When you get in the charter bus, you will be welcomed by state of the art amenities where you will have the chance to relax. The comfy reclining seats and the air conditioning would be enough if you just want a comfortable ride. But since we know that it takes some time to arrive on some trips, our Gainesville charter buses are equipped with entertainment commodities. The onboard WiFi is crucial for those that need to be connected to the internet, and the TVs with DVD players are there if you want to watch a movie.
The Gainesville charter bus company that fits your transportation needs!
But beyond the vehicles, the best of our Gainesville charter bus rental services is our premium experience. During the whole ride, a professional driver will provide a refined treatment and be there for anything you need. If you want to add a new stop or make a last-minute change of plans, let him know, and he will do it immediately. Our Gainesville charter bus rentals offer reliable transportation for all kinds of occasions where a large group is involved. So count on us if you want to transport an entire group to weddings, bachelor parties, corporate events, and sporting events. Our Gainesville charter buses are also an excellent option for school events, especially field trips, since our refined service surpasses the usual school buses. Depending on the different factors, particularly how many people is going to travel, you can have different charter bus rentals. You can have one of our motor coaches, ideal for large groups. Or there is also a mini bus rental option for a small group. And we even have shuttle buses for airport transfers at the Gainesville Regional Airport. So whatever your situation is, be sure that we have the exact charter bus that matches your specific needs. We also offer limo and party bus rentals in Gainesville for special occasions. Just ask for them and we will let you know the models that we have available. Call us today to charter a bus right away, and if you want more information, we will happily give you a free quote. Our reservation specialists team will guide you through the whole process so that the reservation is made correctly.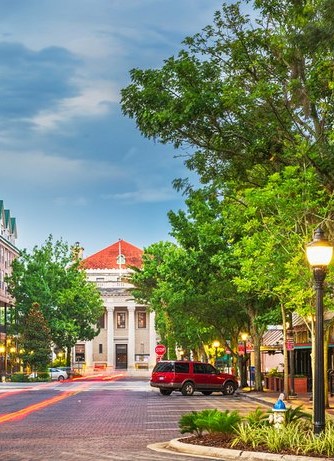 Your group trip to the Gainesville area will go much better thanks to a charter bus
If you are having a Florida traveling, we strongly recommend you visit Gainesville. Located in North Central Florida, Gainesville is an incredible tourist destination for those that want to go to a city with fewer people than the crowded Orlando or Miami. Here too, you will find warm and tropical weather, ideal for a summer vacation. And to seize to the fullest your stay in town, the best option is to have one of our charter bus rentals with a personal bus driver. And the best news is that you can have one of our shuttle buses for a pick-up from the very moment you arrive at the Gainesville Regional Airport. This way, you will be able to visit most of the interesting sites this town offers. When you arrive at Gainesville, Florida, you will be surprised as it is not a big cosmopolitan city at all. As a matter of fact, the tourism you can do here is more related to natural outings than to amusement parks or big festivals. This makes Gainesville, Florida, an excellent alternative in this area of Florida for those who want to have a tranquil time surrounded by green and bodies of water. All around the urban area of Gainesville are plenty of natural parks that protect the biodiversity and which are ideal for school field trips. The most popular due to its beauty and the fantastic walking trails is the Devil's Millhopper Geological State Park. But if you love the sightseeing plans of watching birds and other animals, Sweetwater Wetlands Park is where you have to go. You could also live this kind of experience inside Gainesville, Florida, in the Kanapaha Botanical Gardens, which has an outstanding selection of gorgeous plants. And for those who want to learn more about this kind of stuff, the Florida Museum of Natural History is the perfect destination for you. There you can also find the fascinating Butterfly Rainforest with many exotic and unique butterflies from the local area. Whether you are in Gainesville, Florida, as a tourist or because of corporate events or sporting events, this town will welcome you. In any case, our Gainesville charter bus company assure you we will take you there safely and sound.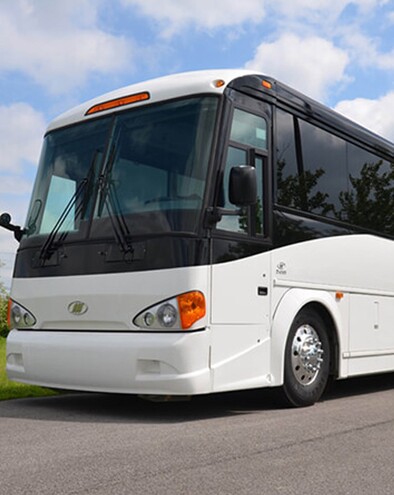 Work with the best Gainesville charter bus company!
If you want the perfect bus in Gainesville, Florida, to fulfill all your transportation needs, we are the most reliable Gainesville charter bus company. We have earned this reputation thanks to the clients that we have worked with renting our Gainesville charter buses. All of them were pleased by their journey, which led to most of them returning for more of our transportation services. When you contact us, our customer service team will immediately get to work organizing all the details of the charter bus rental by your side. Since we give all of our charter bus clients VIP treatment, we will take the time you make you that everything turns out exactly as you planned. This kind of commitment is what you are looking for on a special occasion like a wedding or a corporate event. But a charter bus is also suitable for a more casual affair like a family reunion or a church event. They are also great for a field trip with your students if you want them to enjoy a deluxe school bus ride. If you are here for vacation or corporate travel and want your group to be picked up at the Gainesville Regional Airport, ask for our shuttle bus rentals, and we will be there on time. And last but not least, you can also rent a Gainesville charter bus to go with your friends and watch a game of the Florida Gators, Florida's football team. Be it a modern coach bus rental, shuttle bus or minibus rental, or any of the other vehicles that we have available for you, you will definitely have reliable transportation. If you have a celebration coming, we also have a fleet of luxurious limousines, party buses, and limo buses! Ask for them, and we will cordially provide you with all the information. Whatever your final decision, a professional driver is behind the wheel of every of our charter buses. This guarantees you a smooth and quick journey to your destination. A private bus rental is the best option for a spectacular charter bus ride that will let you go wherever you want. Call us and make the reservation of a Gainesville charter bus today with us and save money thanks to our competitive rates. We offer the most efficient large-group transportation solutions for all situations and field trips requiring a charter bus. Our reservation specialists are available 24 / 7 to give you a free quote with no obligation and to help you rent a charter bus that fulfills your expectations.
For first-rate Gainesville bus rentals, contact us today!