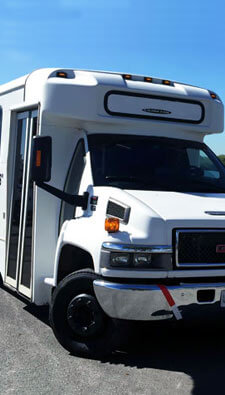 A deluxe party bus or limousine is waiting for you!
Is there a better way to improve your celebration than having a party bus rental for the night? Whether or not it's the best, it is definitely a great idea to level up your party. Our deluxe limousine service is perfect for elegant occasions and casual friend meetings. With our party bus rentals, you will have the chance to have your own private party moving around wherever you want to. There will be no limitations of time and space but the impulse to go where your intuition tells you. The party buses open up the possibility of having an exclusive after-party with your closest friends after the main event ends. A party bus or limo service is ideal for a once-in-a-lifetime celebration like a wedding party or a prom night. But it is also great for more informal events like birthday parties, bachelor parties, bachelorette parties, and sporting events. And even for serious occasions like corporate events. If you just arrived in Gainesville, FL, for a business convention and want premium airport transportation for an elegant pickup at the Gainesville Regional Airport. As you see, we can accommodate any situation, so tell us about your plans, and we will make it happen.
The ultimate party bus and limo service in Gainesville, Florida!
Our number one priority is customer satisfaction, so be sure that we will value your time above anything else. We guarantee that your event's schedule will be followed by the letter. Our party bus and limo rentals excel because of our compromise of providing world-class service. Most of the clients we have worked with return because they have seen how everything turned out and were satisfied. So if you are ready to have one of the most fantastic party bus experiences, count on us. Our fleet is composed of the best party buses and stretch limousines, so you have a wide catalog of different options from which you can choose. Call or email us for the finest Gainesville party bus and limo service and make your reservation immediately. Our reservation specialists team will guide you through the whole process. They will guide you in choosing the right vehicle to fulfill all your transportation needs.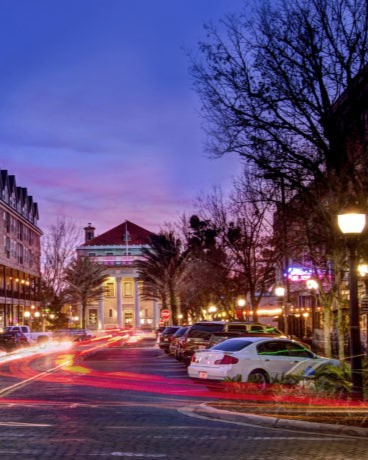 Party around in Gainesville, Florida!
Gainesville, Florida, is an incredible destination for both local visitors and tourists. It is the house for many exciting places where you can have a fantastic time. Despite not being a big city, Gainesville, FL, is still an excellent place for those who love a more tranquil environment to have fun. In fact, in a town like this, you can find vibrant night life with plenty of bars, pubs, and dance clubs. But, at the same time, there are more classy options like going to a lounge or taking a wine tour in the countryside. Gainesville, Florida, offers many options depending on your preferences, so you will find something that goes with your personality. Whatever your final decision, you can greatly improve your celebration if you rent a limousine or a party bus Gainesville. With us, you will get the ultimate party bus experience so that you can enjoy your event to the fullest. We are specialists when it comes to special occasions, so if you want a customized limo service that aligns with your plans, contact us. So if you have an upcoming bachelorette party and want to make something out of this world, you can have a party bus or limo rental to bar hop in Downtown. On the other hand, for those having group travel to or from Gainesville, Florida, we also have charter bus rentals that you can check out here. Our group transportation services are great for situations where a large group of people is involved. Particularly for school field trips to, let's say, the Florida Museum of Natural History or the Samuel P. Harn Museum of Art. If this is your case, feel free to ask about this option, and we will let you know more about our charter buses.
Choose us for an outstanding party bus and limo service!
With our Florida limo service, all your dreams about that special occasion will come true. We will provide you with an ultimate party bus or limousine to have that majestic entrance at your celebration. Could you imagine yourself being under the lights of everyone's cameras and shining like the star you are? Our party bus and limousine service will make it happen, and you will have unforgettable memories of that day. But your entrance is just a part of the experience because all the magic will begin from the moment you hop in the limo or party bus Gainesville. First, you will be welcomed by ample and clean interiors with fantastic lighting, immediately putting you in the party mood. Then, when you lie down in the plush leather seating, you will find great relief thanks to its comfort. But what will impress you are the premium amenities that will improve your party during the party bus ride. And those are the booming stereo systems, the flat-screen TVs, the built-in bars and coolers. With the ultimate party bus commodities and the energy of you and your special guests, you guys will have a blast. Our reliable service will take care of all the transportation logistics. We want you to focus on having an amazing time while on the Florida limo or party bus. We are the most professional transportation provider in Gainesville, Florida, so let us serve you with an elegant party bus/limousine service. The best way for everything to go as planned is to trust our luxurious limo services. Contact us by phone or email to book a Florida limo or a party bus. And also, if you want to come to our place and take a look with your own eyes at our limousines and limo buses, you could do that too.